💚 ℍ𝕆𝕋 ℕ𝔼𝕎 ℝ𝔼𝕃𝔼𝔸𝕊𝔼 & 𝔾𝕀𝕍𝔼𝔸𝕎𝔸𝕐 💚
𝗧𝗵𝗲 𝗢𝗳𝗳𝗲𝗿 𝗯𝘆 𝗕𝗲𝗰𝗰𝗮 𝗦𝘁𝗲𝗲𝗹𝗲 𝗶𝘀 𝗟𝗜𝗩𝗘! 𝗗𝗼𝗻'𝘁 𝗺𝗶𝘀𝘀 𝘁𝗵𝗶𝘀 𝗳𝗮𝗸𝗲 𝗱𝗮𝘁𝗶𝗻𝗴/𝘀𝗽𝗼𝗿𝘁𝘀 𝗿𝗼𝗺𝗮𝗻𝗰𝗲 𝗻𝗼𝘃𝗲𝗹𝗹𝗮!
#𝟭-𝗰𝗹𝗶𝗰𝗸 𝘁𝗼𝗱𝗮𝘆!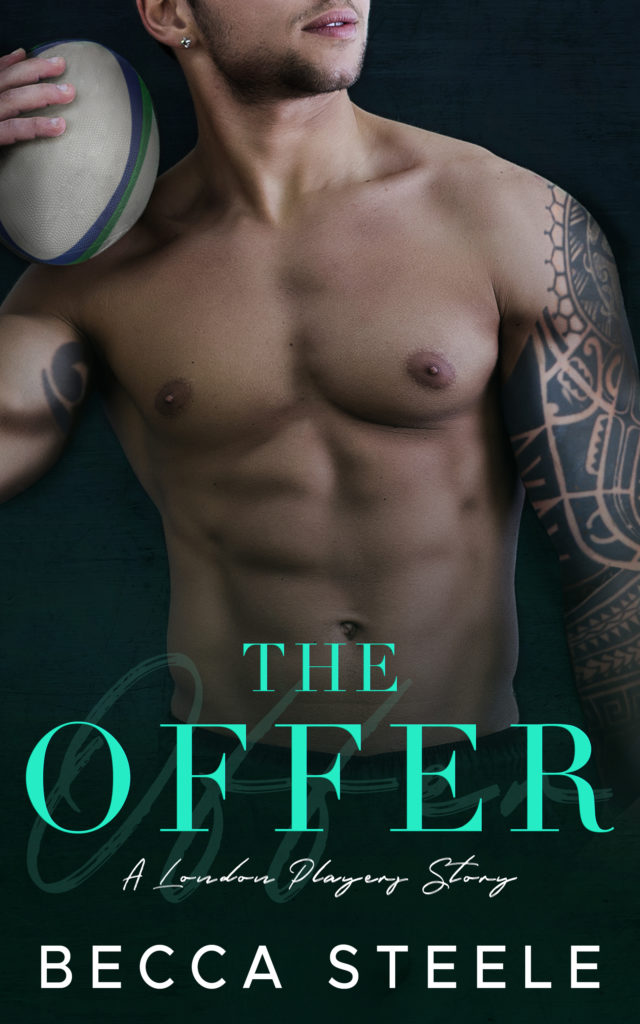 BOOK BLURB
One offer. A few fake dates. What could possibly go wrong?
All I have to do is pose as the girlfriend of London Hawks player Jake Savage. The bad boy of rugby, he has a reputation both on and off the pitch.
Neither of us are interested in a relationship, so our arrangement is perfect. We just have to go on a few dates and pretend to be into each other while we're photographed for the tabloids.
We're not attracted to each other, so it should be easy.
Or so I thought.
After one hot night, things change.
Now, when he kisses me, it doesn't feel like we're pretending anymore.
The Offer is a standalone, fake relationship sports romance novella.
𝐏𝐫𝐞𝐯𝐢𝐨𝐮𝐬𝐥𝐲 𝐚𝐯𝐚𝐢𝐥𝐚𝐛𝐥𝐞 𝐚𝐬 𝐚 𝐬𝐡𝐨𝐫𝐭 𝐬𝐭𝐨𝐫𝐲 𝐰𝐢𝐭𝐡𝐢𝐧 𝐭𝐡𝐞 𝐋𝐨𝐯𝐞 𝐈𝐬 𝐈𝐧 𝐓𝐡𝐞 𝐀𝐢𝐫 𝐚𝐧𝐭𝐡𝐨𝐥𝐨𝐠𝐲, 𝐭𝐡𝐢𝐬 𝐞𝐝𝐢𝐭𝐢𝐨𝐧 𝐡𝐚𝐬 𝐛𝐞𝐞𝐧 𝐞𝐱𝐩𝐚𝐧𝐝𝐞𝐝 𝐚𝐧𝐝 𝐞𝐱𝐭𝐞𝐧𝐝𝐞𝐝 𝐢𝐧𝐭𝐨 𝐚 𝐧𝐨𝐯𝐞𝐥𝐥𝐚.
PURCHASE LINK
💚 Amazon Universal: http://mybook.to/offer
💚 TBR: http://bit.ly/TheOffer-GR
Nancy's Review
This was the sweetest story. At the beginning, Victoria finds her husband with another woman on her wedding day, after the marriage! Jake plays rugby and his temper keeps getting him in trouble on the pitch and off of it. Jake may lose his place on the team if he doesn't clean up his image. Mutual friends set Victoria and Jake up in a fake relationship to improve his standing in the media and with his team. But what if their attraction is off the charts? Steamy encounters occur and these two are in way over their heads. Can Jake walk away? Victoria is not his type. I really enjoyed reading this sweet story! It's a great, quick read and I look forward to more in this series! 4 stars
GIVEAWAY
To celebrate the release of The Offer, Becca Steele has a signed paperback up for grabs! Head to her Facebook page to enter:
https://www.facebook.com/authorbeccasteele
ABOUT THE AUTHOR
Becca Steele is an international bestselling romance author from the south of England, where she lives with her husband, two kids, and a whole horde of characters that reside inside her head.
When she's not writing, you can find her reading or watching Netflix, usually with a glass of wine in hand. Failing that, she'll be online hunting for memes, or wasting time making her 500th Spotify playlist.
AUTHOR LINKS
Facebook | Becca's Book Bar | Instagram | Newsletter | BookBub | Amazon | TikTok