Free Fall by Sara Cate is LIVE!!!
I've moved past what happened on Del Rey, and I've kept the secret of what I did—what we did—buried deep. But I'm afraid I'll never move past what happened six months later in Amsterdam.
When Ellis Prior, an old friend of my dad's, walked back into my life, we became fast friends, and he showed me things I can't forget—things that brought me to my knees. But I walked away from that life, and I never looked back.
It's been three years, but I can no longer ignore it.
It awoke a hunger inside of me.
A craving for something new.
Something powerful.
Now Hanna Thurber is on Del Rey looking for a place to escape, and I'm all too eager to provide. This ballerina is anything but delicate, and the chemistry between us is electric.
But the past won't stay dead, and Ellis Prior finds his way to the island too. Suddenly, there is something pulling the three of us together. What starts as innocent and fun turns into an attraction that is undeniably forbidden.
There are no secrets on the island.
There is only us.
And the truth I can no longer ignore.
Free Fall is an MMF romance with explicit sexual content. It is a follow-up to Gravity, and although each story can be read separately, they are meant to be read in order.
Review by Nancy VanSpunky
Under the title for this story belong the words, "It's Complicated!" I recommend you read Gravity before this book. Free Fall was very different from what I normally read. It had some pretty dark elements. Those mostly belong to Nash. Although, Hanna is in a dark place, too, and that's why she comes to stay at Del Ray. Also, this book is mainly MMF, but there is some MFM. Like I said, it's complicated. At a few points, I was wondering how this was all going to work out. My favorite character was Ellis. He's the epitome of the silver fox. Yummy! Free Fall is explosive, steamy, and complicated. 4 stars
About the author: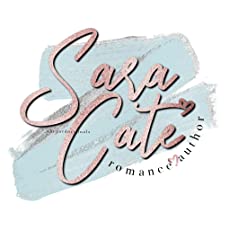 Sara Cate writes steamy contemporary romance with high stakes and big feels. She has a soft spot for forbidden romance, age gap, lots of angst, and boys so bad you can't help but love them.
AUTHOR LINKS
Website: https://saracatebooks.com
Facebook: https://www.facebook.com/saracatebooks
Instagram: https://www.instagram.com/saracatebooks
Newsletter: https://view.flodesk.com/pages/5f8fadf1bdb7255f843e0b74